The history of the gallery
La historia de la galería
2013
Stéphane Debost, collectionneur passionné d'art depuis ses 18 ans, transforme son lieu de vie en maison-galerie dans la pittoresque ville médiévale de Clisson, y créant ainsi la première galerie permanente. Ainsi naît In Arte Veritas, littéralement « La Vérité est dans l'Art », convaincu qu'il est que l'Art a une place impérieuse et nécessaire dans la vie de tout un chacun. Ce premier espace, atypique, conjugue dans 86m2 une maison de vie et un espace d'exposition, où chacun peut aller à la rencontre de l'Art et à la rencontre de l'autre…
2013
Stéphane Debost, an art enthusiast since the age of 18, transforms his living space into a gallery-house in the picturesque medieval town of Clisson, thereby creating the first permanent gallery. Thus is born In Arte Veritas, literally 'The Truth is in Art," convinced that art has an imperative and necessary place in everyone's life. This unique first space combines, in 86m2, a living space and an exhibition area where one can engage with art and encounter others.
2013
Stéphane Debost, un apasionado coleccionista de arte desde los 18 años, transforma su hogar en una casa-galería en la pintoresca ciudad medieval de Clisson, creando así la primera galería permanente. Así nace In Arte Veritas, literalmente "La verdad en el arte", convencido de que el arte tiene un lugar urgente y necesario en la vida de todos. Este primer espacio, atípico, combina en 86 m2 una casa de vida y un espacio de exhibición, donde cualquiera puede encontrarse con el arte y con los demás…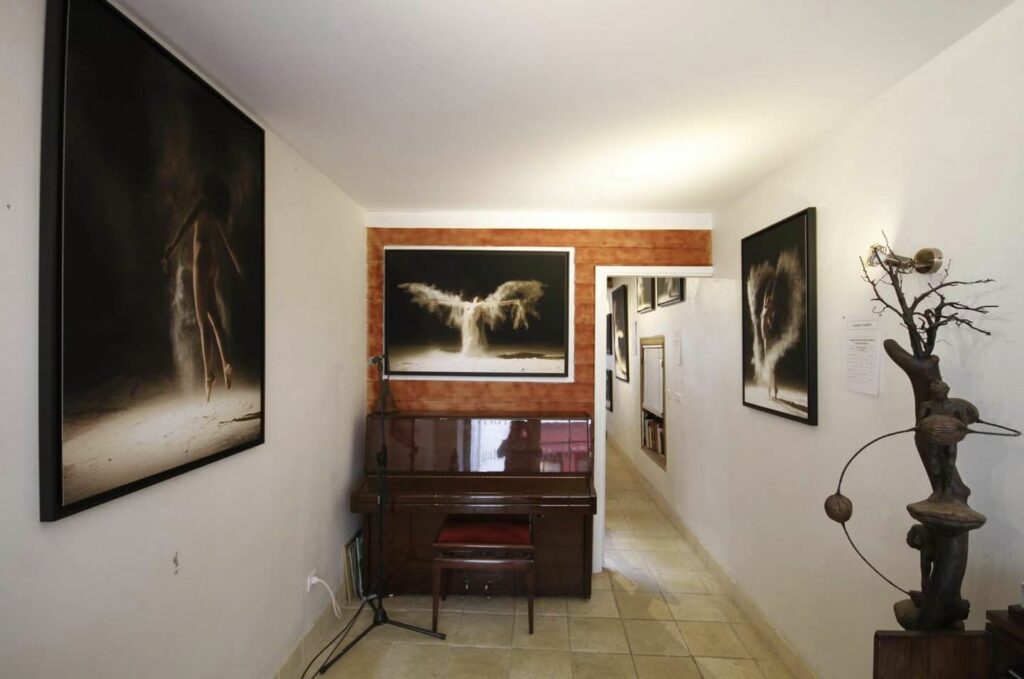 2014
Devant l'engouement du public et des premiers acheteurs, la trésorerie de la galerie le permettant enfin, un premier local commercial de 40m2 est choisi, en dehors de la maison initiale, et au pied du château et de la rivière. Dans cet écrin touristique et plus visible, In Arte Veritas prend ses ailes, et participe aussi à ses premiers salons d'art français et internationaux.  La proposition artistique s'étoffe notablement, toute comme la clientèle, qui ne vient plus seulement de l'Ouest de la France.
2014
Faced with the enthusiasm of the public and the initial buyers, and with the gallery's finances finally allowing it, a first commercial space of 40m2 is chosen, separate from the initial house, and at the foot of the castle and the river. In this touristy and more visible setting, In Arte Veritas spreads its wings and also participates in its first French and international art fairs. The artistic proposal expands significantly, as does the clientele, which now comes not only from the western part of France.
2014
Ante la emoción del público y los primeros compradores, y gracias a la tesorería de la galería, se elige un primer local comercial de 40m2 fuera de la casa inicial y al pie del castillo y el río. En este entorno turístico y más visible, In Arte Veritas despliega sus alas y participa en sus primeras ferias de arte francesas e internacionales. La propuesta artística se amplía notablemente, así como la clientela, que ya no viene solo del oeste de Francia.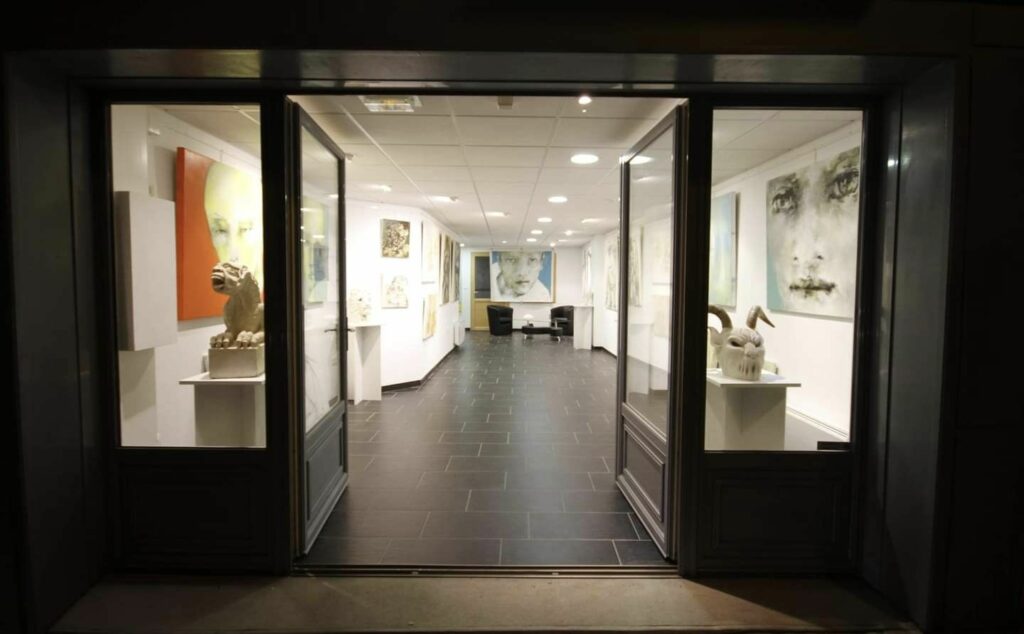 2016
In Arte Veritas grandit. Aussi, pour accompagner sa clientèle et la proposition artistique de plus en plus pointue et qualitative, il est urgent de trouver tout à la fois plus d'espace, et de pouvoir se développer sur une zone de plus grande chalandise. Dès lors, 2 partenariats sont noués : l'un pour agrandir la visibilité clissonnaise, avec une surface d'exposition complémentaire de 160m2, et en parallèle est ouverte la galerie angevine, dans un écrin là encore atypique : des caves du 15è siècle, réhabilitées, pour une surface additionnelle de 200m2 au départ.
2016
In Arte Veritas is growing. Therefore, to support its clientele and the increasingly sophisticated and high-quality artistic proposal, it is urgent to find both more space and to be able to expand into a larger catchment area. Consequently, two partnerships are established: one to expand visibility in Clisson, with an additional exhibition space of 160m2, and simultaneously, the Angers gallery is opened in another unique setting: 15th-century rehabilitated cellars, providing an additional surface area of 200m2 initially.
2016
In Arte Veritas crece. Por lo tanto, para acompañar a su clientela y la cada vez más sofisticada y de alta calidad oferta artística, es urgente encontrar más espacio y poder expandirse en una zona con mayor afluencia. Así, se establecen dos asociaciones: una para aumentar la visibilidad en Clisson, con una superficie adicional de exhibición de 160m2, y paralelamente se abre la galería angevina en un lugar también atípico: bodegas del siglo XV rehabilitadas, para una superficie adicional de 200m2 al principio.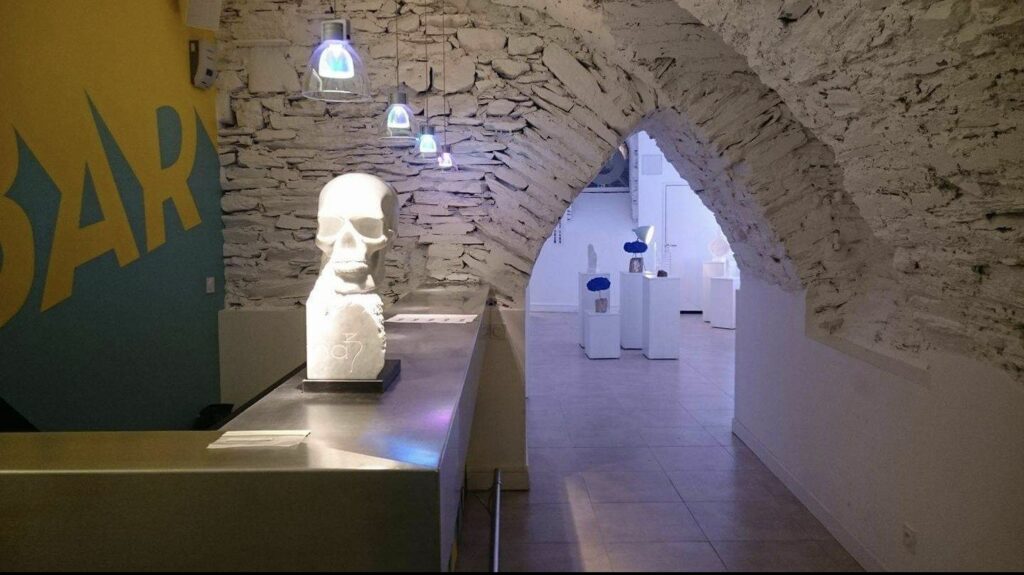 2018
Pour continuer le développement, et pouvoir tout à la fois s'agrandir sur Angers, mais également renforcer la ligne artistique en nouant des relations avec des artistes à la visibilité internationale, le plus gros client de la galerie monte au capital. Il est décidé également de cesser les activités clissonnaises, pour se concentrer sur l'activité angevine. La galerie d'Angers grandit : on récupère le local commercial sur rue, et une partie des espaces disponibles en arrière cour, pour porter la galerie à près de 400m2.
2018
To continue the development and simultaneously expand in Angers while also strengthening the artistic direction by establishing relationships with internationally visible artists, the gallery's largest client becomes a shareholder. It is also decided to cease operations in Clisson, focusing solely on the activities in Angers. The Angers gallery grows: the street-level commercial space is reclaimed, along with a portion of the available courtyard space, bringing the gallery to nearly 400m2.
2018
Para seguir con el desarrollo y poder expandirse en Angers, así como fortalecer la línea artística estableciendo relaciones con artistas de visibilidad internacional, el cliente más importante de la galería se convierte en accionista mayoritario. También se decide cesar las actividades en Clisson para concentrarse en la actividad en Angers. La galería en Angers crece: se recupera el local comercial en la calle y una parte de los espacios disponibles en el patio trasero para llevar la galería a casi 400m2.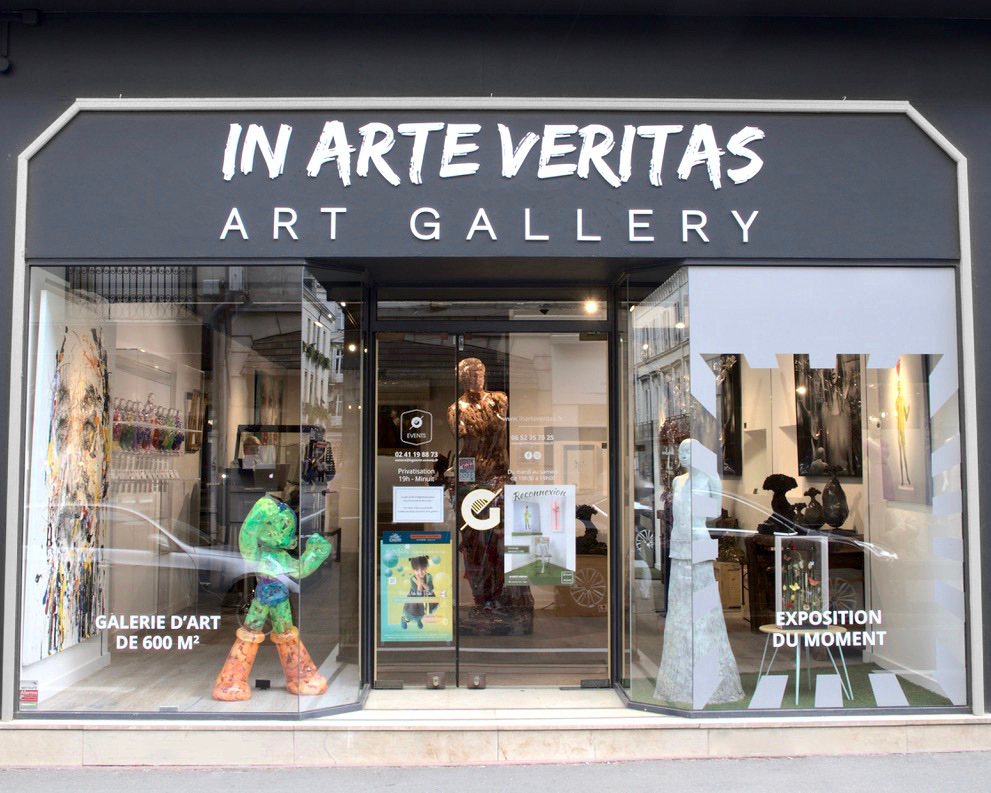 2021
La galerie angevine s'étend désormais sur 600m2, un associé angevin, client important de la galerie, s'associant à In Arte Veritas pour permettre cette montée en puissance. Des travaux en sous-terrain ont permis de connecter l'ensemble des espaces, pour proposer un labyrinthe artistique, avec 10 espaces couvrant toutes les époques : de l'art contemporain, bien sûr, mais aussi des œuvres modernes, anciennes voire antiques.. La galerie intervient par ailleurs de plus en plus lors d'événements hors site, dans le cadre de partenariats avec des entreprises et banques d'affaires.
2021
The gallery in Angers now spans 600m2, with an associate from Angers, a significant client of the gallery, joining forces with In Arte Veritas to enable this expansion. Underground work has connected all the spaces, creating an artistic labyrinth with 10 areas covering all periods: contemporary art, of course, but also modern, ancient, and even antique works. The gallery is increasingly involved in off-site events through partnerships with businesses and investment banks.
2021
La galería angevina ahora se extiende sobre 600m2, un socio angevino, un importante cliente de la galería, se asocia con In Arte Veritas para permitir esta escalada. Los trabajos subterráneos permitieron conectar todos los espacios para ofrecer un laberinto artístico con 10 espacios que cubren todas las épocas: arte contemporáneo, por supuesto, pero también obras modernas, antiguas e incluso antiguas. Además, la galería cada vez interviene más en eventos fuera del sitio, en el marco de asociaciones con empresas y bancos de negocios.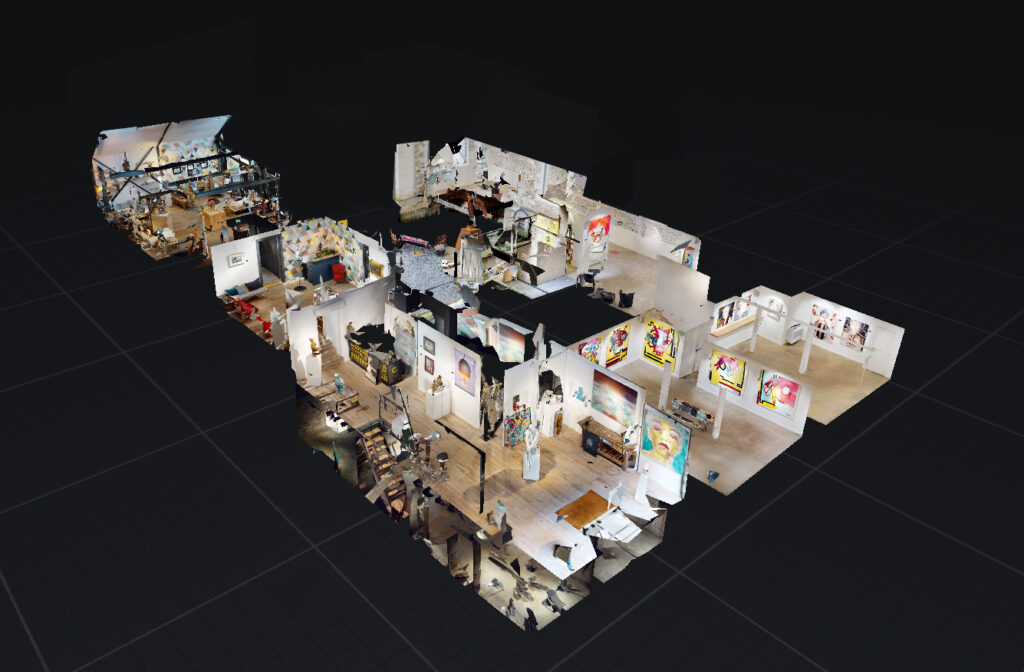 2022
L'acquisition de la galerie Alain Daudet de Toulouse se concrétise, après un an de travail, et permet une visibilité accrue des artistes de la Galerie, dont certains avec lesquels on travaille désormais en exclusivité. Cette galerie de 250m2 propose 2 plateaux aux énergies différentes, de sorte que chacun peut, tout comme à Angers, s'immerger dans celui des univers qui lui correspond le plus. Les ventes continuent par ailleurs de s'internationaliser : Singapour, Japon, Nouvelle-Zélande Etats-Unis, Mexique, Angleterre, Suisse, Luxembourg…
2022
The acquisition of the Alain Daudet gallery in Toulouse materializes after a year of work, providing increased visibility for the gallery's artists, some of whom are now exclusively represented. This 250m2 gallery offers two platforms with different energies, allowing visitors to immerse themselves in the universe that resonates with them the most, similar to the setup in Angers. Sales also continue to internationalize, reaching destinations such as Singapore, Japan, New Zealand, the United States, Mexico, England, Switzerland, and Luxembourg.
2022
La adquisición de la galería Alain Daudet de Toulouse se materializa después de un año de trabajo y permite una mayor visibilidad de los artistas de la galería, algunos de los cuales ahora trabajan en exclusiva con la galería. Esta galería de 250m2 ofrece dos niveles con energías diferentes, de modo que cada uno puede, al igual que en Angers, sumergirse en el universo que más le corresponda. Las ventas continúan internacionalizándose: Singapur, Japón, Nueva Zelanda, Estados Unidos, México, Inglaterra, Suiza, Luxemburgo…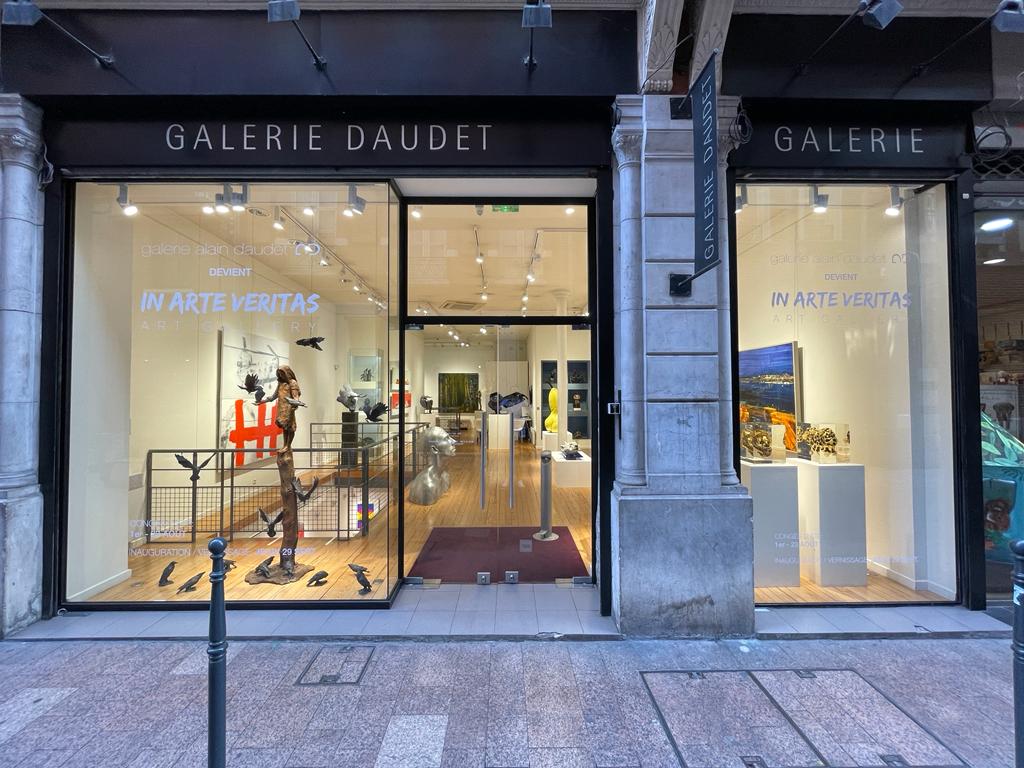 2023
L'année des 10 ans de la galerie est aussi l'année de son internationalisation physique, avec une première galerie en Espagne, à Valence, la ville du design à la beauté architecturale remarquable !
Inaugurée le 24 février 2023, ce nouvel écrin de 250 m2, présente les oeuvres au sein d'espaces lumineux dans lesquels les patios intérieurs et hauts plafonds voûtés donnent à voir des œuvres magnifiées.
L'occasion d'une exposition grandissante d'In Arte Veritas, tant au niveau de sa visibilité médiatique (six interviews télévisés et des dizaines d'articles de presse en Espagne etc. ).
In Arte Veritas Valencia fut également citée parmi les huit galeries espagnoles à voir absolument !
2023
The 10th anniversary year of the gallery also marks its physical internationalization, with the opening of the first gallery in Spain, in Valencia, a city known for its remarkable architectural beauty and design!
Inaugurated on February 24, 2023, this new 250m2 space presents artworks in bright environments, where interior patios and high vaulted ceilings enhance the magnificence of the pieces!
This expansion becomes an opportunity for In Arte Veritas to grow, not only in terms of media visibility (six television interviews and dozens of press articles in Spain, etc.) but also as In Arte Veritas Valencia is recognized among the eight Spanish galleries that are a must-visit!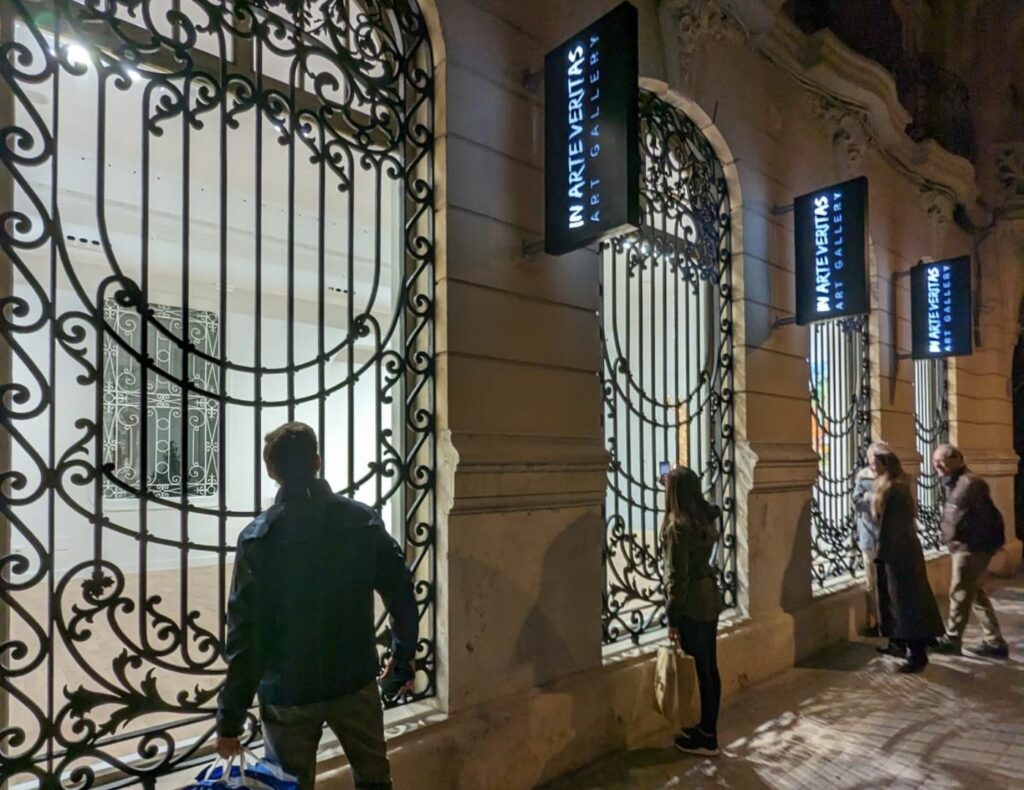 2024
De nouveaux projets Hors-les-murs voient progressivement le jour, nés des sollicitations de plusieurs villes comme Narbonne (France), et la signature d'une dizaine de contrats d'apports d'affaires avec des partenaires divers.
On ne sait jamais de quoi la vie est faite : les idées fusent, et le bonheur c'est de pouvoir les suivre en toute liberté…
2024
New Off-site projects are gradually emerging, spurred by requests from several cities such as Narbonne (France), and the signing of about ten business contribution contracts with various partners.
One never knows what life has in store: ideas abound, and happiness lies in being able to pursue them freely.